Patrick Henry
Virginia House of Burgesses
| | |
| --- | --- |
| Born: | May 29, 1736 |
| Birthplace: | Hanover County, Virginia |
| Education: | (Lawyer, Politician) |
| Work: | Elected to Virginia House of Burgesses, 1765; Admitted to the Bar of the General Court in Virginia, 1769; Elected to the Continental Congress, 1774; Virginia Militia Leader, 1775; Governor of Virginia, 1776-1778, 1784. |
| Died: | June 6, 1799 |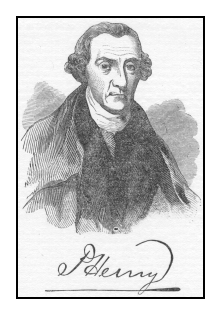 Portrait of Patrick Henry
"Radical," is a title that few men can wear with ease. The name Patrick Henry, during the revolution and for some time after, was synonymous with that word in the minds of colonists and Empire alike. Henry's reputation as a passionate and fiery orator exceeded even that of Samuel Adams. His Stamp Act Resolutions were, arguably, the first shot fired in the Revolutionary War.
Patrick Henry's personality was a curious antidote to the stern honor of Washington, the refined logic of Jefferson, and the well-tempered industry of Franklin. Young Henry was an idler and by many accounts a derelict; though everyone knew he was bright, he simply would not lift a finger except to his own pleasure. By the age of 10, his family knew that he would not be a farmer, and tried instead to train him toward academe. He would not apply himself to studies either. At age 21 his father set him up in a business that he bankrupted shortly thereafter. Finally the general public disgust in Hanover and pressure from his young family (he had married at the age of eighteen) caused him to study for six weeks and take the bar exam, which he passed, and begin work as a lawyer.
In 1764 he moved to Louisa county, Virginia, where, as a lawyer, he argued in defense of broad voting rights (suffrage) before the House of Burgesses. The following year he was elected to the House and soon became its leading radical member. It was that year that he proposed the Virginia Stamp Act Resolutions. Few members of the Burgesses, as aristocratic a group of legislators as existed in the colonies, would argue openly for defiance of Gr. Britain. Henry argued with remarkable eloquence and fervor in favor of the five acts, which by most accounts amounted to a treason against the mother country. In 1774 he represented Virginia in the First Continental Congress where he continued in the role of firebrand. At the outbreak of the revolution, he returned to his native state and lead militia in defense of Virginia's gunpowder store, when the royal Governor spirited it aboard a British ship. Henry forced the Governor Lord Dunmore to pay for the powder at fair price.
In 1776, Henry was elected Governor of Virginia. He was re-elected for three terms and then succeeded by Thomas Jefferson. He was again elected to the office in 1784. Patrick Henry was a strong critic of the constitution proposed in 1787. He was in favor of the strongest possible government for the individual states, and a weak federal government. He was also very critical of the fact that the convention was conducted in secret.
President Washington appointed him Secretary of State in 1795, but Henry declined the office. In 1799, President Adams appointed him envoy to France, but failing health required him to decline this office too. He died on June 6, 1799 at age of 63.

Some more and repeat information.

Patrick Henry
1736-1799
"Give me Liberty, or give me Death!" were the burning words which fell from the lips of Patrick Henry, at the beginning of the War for Independence, and aroused the Continent to more vigorous and united action.1 He was the son of a Virginia planter in Hanover county, and was born on the 29th of May, 1736. At the age of ten years he was taken from school, and commenced the study of Latin in his father's house. He had some taste for mathematics, but a love of idleness, as manifested by his frequent hunting and fishing excursions, for sport, and utter aversion to mental labor, gave prophecies of a useless life. At twenty-one years of age, he engaged in trade, but neglect of business soon brought bankruptcy. He had married at eighteen, and passed most of his time in idleness at the tavern of his father-in-law, in Hanover, where he often served customers at the bar. As a last resort, he studied law diligently for six weeks, obtained a license to practice, but he was twenty-seven years of age before he was known to himself or others, except as a lazy pettifogger. Then he, was employed in the celebrated Parsons' cause,2 and in the old Hanover court house, with his father on the bench as judge, and more than twenty of the most learned men in the colony before him, his genius as an orator and advocate beamed forth in that awful splendor, so eloquently described by Wirt.. From that period he rose rapidly to the head of his profession. In 1764, he made Louisa county his residence, and his fame was greatly heightened by a noble defence of the right of suffrage, which, as a lawyer, he made before the House of Burgesses, that year. In 1765; he was elected to a seat in that house, and during that memorable session, he made his great speech against the Stamp Act.3 In 1769, he was admitted to the bar of the general court, and was recognized as a leader, in legal and political matters, until the Revolution broke out. He was a member of the first Continental Congress, in 1774, and gave the first impulse to its business;4 and when, in 1775, Governor Dunmore attempted to rob I lie colony of gunpowder, by having it conveyed on board a British war-vessel, Patrick Henry, at the head of resolute armed patriots, compelled him to pay its value in money. In 1776, Henry was elected the first republican governor of Virginia, and was reelected three successive years, when he was succeeded by Thomas Jefferson. During the whole struggle, he was one of the most efficient public officers of the State; and in 1784, he was again chosen governor.

Patrick Henry was a consistent advocate of State Rights, and was ever jealous of any infringement upon them. For that reason, he was opposed to the Federal Constitution, and in the Virginia convention, called in 1788, to consider it, he opposed its ratification with all the power of his great eloquence. He finally acquiesced, when it became the organic law of the Republic, and used all his efforts to give it a fair trial and make it successful. Washington nominated him for the office of Secretary of State, in 1795, but Mr. Henry declined it. In 1799 President Adams appointed him an envoy to France, with Ellsworth and Murray, but feeble health and advanced age compelled him to decline an office he would have been pleased to accept. A few weeks afterward, his disease became alarmingly active, and he expired at his seat, at Red Hill, in Charlotte county, on the 6th of June, 1799, at the age of almost sixty-three years. Governor Henry was twice married. By his first wife he had six children, and nine by the second. His widow married the late Judge Winston, and died in Halifax county, Virginia, in February, 1831.

---
1 In the Virginia convention, held in St. John's church at Richmond, in March, 1775. It was one of the most powerful speeches ever made by the great orator, and ended with the words quoted above. They were afterward placed on flags, and adopted as a motto under many circumstances.

2 This was a contest between the clergy and the State legislature, on the question of an annual stipend claimed by the former. A decision of the court had left nothing undetermined but the amount of damage. Berry's eloquence electrified ,judge, jury, and people. The jury brought in a verdict of ors penny damages, and the people took Henry upon their shoulders, and carried him in triumph about the court-house yard.

3 He had introduced a series of resolutions, highly tinctured with rebellions doctrines, and supported them with his wonderful eloquence. The house was greatly excited; and when, at length, he alluded to tyrants, and said, "Caesar had his Brutus, Charles the First his Cromwell, and George the Third-" there was a cry of "Treason! Treason!" He paused a moment, and then said, "may profit by their example. If that be Treason, make the most of it."

4 When all was doubt and hesitation at the opening of the session, and no one seemed ready to take the first step, a plain man, dressed in ministers' grey, arose and proposed action. "Who is it? who is it?" asked several members. "Patrick Henry," replied the soft voice of his colleague, Peyton Randolph.

Declaration of Independence
Chronology Of Events:
June 7, 1776 to January 18, 1777
1776
June 7 -- Congress, meeting in Philadelphia, receives Richard Henry Lee's resolution urging Congress to declare independence.
June 11 -- Thomas Jefferson, John Adams, Benjamin Franklin, Roger Sherman, and Robert R. Livingston appointed to a committee to draft a declaration of independence. American army retreats to Lake Champlain from Canada.
June 12 - 27 -- Jefferson, at the request of the committee, drafts a declaration, of which only a fragment exists. Jefferson's clean, or "fair" copy, the "original Rough draught," is reviewed by the committee. Both documents are in the manuscript collections of the Library of Congress.
June 28 -- A fair copy of the committee draft of the Declaration of Independence is read in Congress.
July 1 - 4 -- Congress debates and revises the Declaration of Independence.
July 2 -- Congress declares independence as the British fleet and army arrive at New York.
July 4 -- Congress adopts the Declaration of Independence in the morning of a bright, sunny, but cool Philadelphia day. John Dunlap prints the Declaration of Independence. These prints are now called "Dunlap Broadsides." Twenty-four copies are known to exist, two of which are in the Library of Congress. One of these was Washington's personal copy.
July 5 -- John Hancock, president of the Continental Congress, dispatches the first of Dunlap's broadsides of the Declaration of Independence to the legislatures of New Jersey and Delaware.
July 6 -- Pennsylvania Evening Post of July 6 prints the first newspaper rendition of the Declaration of Independence.
July 8 -- The first public reading of the Declaration is in Philadelphia.
July 9 -- Washington orders that the Declaration of Independence be read before the American army in New York -- from his personal copy of the "Dunlap Broadside."
July 19 -- Congress orders the Declaration of Independence engrossed (officially inscribed) and signed by members.
August 2 -- Delegates begin to sign engrossed copy of the Declaration of Independence. A large British reinforcement arrives at New York after being repelled at Charleston, S.C.
1777
January 18 -- Congress, now sitting in Baltimore, Maryland, orders that signed copies of the Declaration of Independence printed by Mary Katherine Goddard of Baltimore be sent to the states.
George Washington1732-1799






First in war--First in peace--First in the hearts of his countrymen--was a just sentiment uttered half a century ago by the foster-son1 of the Great Patriot, when speaking of the character of his noble guardian. And the hand of that son was the first to erect a monumental stone in memory of The Father of his Country, upon which was inscribed: HERE, The 11th of February [O. S.], 1732, George Washington was born. That stone yet lies on the site of his birth-place, in Westmoreland county, Virginia, near the banks of the Potomac. The calendar having been changed,2 we celebrate his birth-day on the 22d of February.

George Washington was descended from an old and titled family in Lancashire, England, and was the eldest child of his father, by Mary Ball, his second wife. He died when George was little more than ten years of age, and the guidance of the future Leader, through the dangers of youthhood, devolved upon his mother. She was fitted for the service; and during his eventful life, Washington regarded the early training of his mother with the deepest gratitude. He received a common English education, and upon that, a naturally thoughtful and right-conditioned mind, laid the foundation of future greatness. Truth and justice were the cardinal virtues of his character. 3 He was always beloved by his young companions, and was always chosen their leader in military plays, At the ago of fourteen years, he wished to enter the navy, but yielded to the discouraging persuasions of his mother; and when he was seventeen years old, he was one of the most accomplished land surveyors in Virginia. In the forest rambles incident to his profession, he learned much of the topography of the country, habits of the Indians, and life in the camp. These were stern but useful lessons of great value in his future life.

Young Washington was appointed one of the adjutants-general of his state at the age of nineteen, but soon resigned his commission to accompany an invalid half-brother to the West Indies. Two years later, when the French began to build forts southward of Lake Erie, he was sent by the royal governor of Virginia, to demand a cessation of such hostile movements. He performed the delicate mission with great credit; and so highly were his services esteemed, that when, in 1755, Braddock came to drive the French from the vicinity of the Ohio, Washington was chosen his principal aid. The young Leader had already been in that wilderness at the head of a military expedition, and performed his. duty so well, that he was publicly thanked by the Virginia legislature. Braddock was defeated and killed, and his whole army escaped utter destruction only through the skill and valor of Colonel Washington, in directing their retreat. 4 He continued in active military service most of the time, until the close of 1758, , when he resigned his commission, and retired to private life.

At the age of twenty-seven years, Washington married the beautiful Martha .Custis, the young widow of a wealthy Virginia planter, and they took up their abode at Mount Vernon, on the banks of the Potomac, an estate left him by his half-brother. There he quietly pursued the business of a farmer until the Spring of 1774, when he was chosen to fill a seat in the Virginia legislature. The storm of the great revolution was then gathering; and toward the close of Summer, he was elected a delegate to the first Continental Congress, which assembled at Philadelphia, in September. He was a delegate the following year, when the storm burst on Bunker Hill, after the first lightning flash at Lexington; and by the unanimous voice of his compatriots he was chosen commander-in-chief of the army of freemen which had gathered spontaneously around Boston.

For eight long years Washington directed the feeble armies of the revolted colonies, in their struggle for independence. That was a terrible ordeal through which the people of America passed! During the night of gloom which brooded over the hopes of the patriots from the British invasion of New York, until the capture of Cornwallis, he was the lode-star of their hopes. And when the blessed morning of Peace dawned at York-town, and the last hoof of the oppress--or had left our shores, Washington was hailed as the Deliverer of his people; and he was regarded by the aspirants for freedom in the eastern hemisphere as the brilliant day-star of promise to future generations.

During all the national perplexities after the return of peace, incident to financial embarrassments and an imperfect system of government, Washington was regarded, still, as the public leader; and when a convention assembled to modify the existing government, he was chosen to preside over their deliberations. And again, when the labors of that convention resulted in the formation of our Federal Constitution, and a president of the United States was to be chosen, according to its provisions, his countrymen, with unanimous voice, called him to the highest place of honor in the gift of a free people.

Washington presided over the affairs of the new Republic for eight years, and those the most eventful in its history. A now government had to be organized without any existing model, and new theories of government were to be put in practice for the first time. The domestic and foreign policy of the country had to be settled by legislation and diplomacy, and many exciting questions had to be met and answered. To guide the ship of state through the rocks and quick-sands of all these difficulties required great executive skill and wisdom. Washington possessed both; and he retired from the theatre of public life without the least stain of reproach upon his judgment or his intentions.

The great Patriot and Sage enjoyed the repose of domestic life, at Mount Vernon, in the midst of an affectionate family and the almost daily congratulations of visitors, for almost three years, when the effects of a heavy cold closed his brilliant career, in death. He ascended to the bosom of his God on the 14th of December, 1799, when almost sixty-eight years of age.



John Adams
1735-1826
Representing the colony of Massachusetts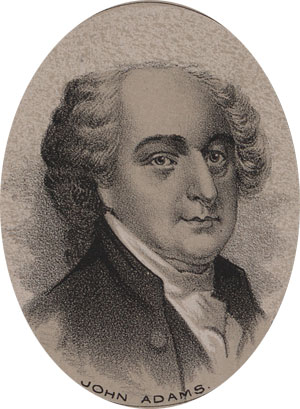 by Ole Erekson, Engraver, c1876, Library of Congress
| | |
| --- | --- |
| Born: | October 30, 1735 |
| Birthplace: | Braintree, Mass. |
| Education: | Graduate of Harvard. (Lawyer) |
| Work: | Admitted to Massachusetts Bar, 1761; Elected to Massachusetts Assembly, 1770; Attended First Continental Congress, 1774-'76; Signed Declaration of Independence, 1776; Appointed Diplomat to France, 1776-'79; Member of assembly to form State Constitution of Massachusetts, Minister plenipotentiary in Europe, 1780, '81; Party to the Treaty of Peace with Gr. Britain, 1783; U.S. Minister to the British court, c. 1783- '88; Elected first Vice President, 1789; President, 1796. |
| Died: | July 4, 1826 |
Adams began his education in a common school in Braintree. He secured a scholarship to Harvard and graduated at the age of 20.
He apprenticed to a Mr. Putnam of Worcester, who provided access to the library of the Attorney General of Massachusetts, and was admitted to the Bar in 1761. He participated in an outcry against Writs of Assistance. Adams became a prominent public figure in his activities against the Stamp Act, in response to which he wrote and published a popular article, Essay on the Canon and Feudal Law. He married in 1766 and moved to Boston, assuming a prominent position in the patriot movement. He was elected to the Massachusetts Assembly in 1770, and was chosen one of five to represent the colony at the First Continental Congress in 1774.
Again in the Continental Congress, in 1775, he nominated Washington to be commander-in-chief on the colonial armies. Adams was a very active member of congress, he was engaged by as many as ninety committees and chaired twenty-five during the second Continental Congress. In May of 1776, he offered a resolution that amounted to a declaration of independence from Gr. Britain. He was shortly thereafter a fierce advocate for the Declaration drafted by Thos. Jefferson. Congress then appointed him ambassador to France, to replace Silas Dean at the French court. He returned from those duties in 1779 and participated in the framing of a state constitution for Massachusetts, where he was further appointed Minister plenipotentiary to negotiate a peace, and form a commercial treaty, with Gr. Britain. In 1781 he participated with Franklin, Jay and Laurens, in development of the Treaty of Peace with Gr. Britain and was a signer of that treaty, which ended the Revolutionary War, in 1783. He was elected Vice President of the United States under Geo. Washington in 1789, and was elected President in 1796. Adams was a Federalist and this made him an arch-rival of Thos. Jefferson and his Republican party. The discord between Adams and Jefferson surfaced many times during Adams' (and, later, Jefferson's) presidency. This was not a mere party contest. The struggle was over the nature of the office and on the limits of Federal power over the state governments and individual citizens. Adams retired from office at the end of his term in 1801. He was elected President of a convention to reform the constitution of Massachusetts in 1824, but declined the honor due to failing health.
He died on July 4, 1826 (incidentally, within hours of the death of Thos. Jefferson.) His final toast to the Fourth of July was "Independence Forever!" Late in the afternoon of the Fourth of July, just hours after Jefferson died at Monticello, Adams, unaware of that fact, is reported to have said, "Thomas Jefferson survives."
Thomas Jefferson
1743-1826
Virginia House of Burgesses, Representing Virginia at the Continental Congress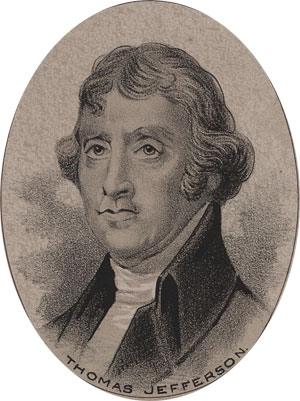 by Ole Erekson, Engraver, c1876, Library of Congress
| | |
| --- | --- |
| Born: | April 13, 1743 |
| Birthplace: | Shadwell, Virginia |
| Education: | William and Mary College (Lawyer) |
| Work: | Admitted to Virginia bar, 1767; Elected to Virginia House of Burgesses, 1769; Delegate to the Continental Congress, 1775-76; Virginia House of Delegates, 1776-79; Elected Governor of Virginia, 1779, 1780; Dispatched to England to treat for peace with Gr. Britain, 1782; Associate Envoy to France, 1784; Minister to the French Court, 1785; Secretary of State, 1789; Established Democratic-Republican party, 1793; Vice President of the United States, 1796; President, 1801; Established University of Virginia, 1810. |
| Died: | July 4, 1826 |
More than a mere renaissance man, Jefferson may actually have been a new kind of man. He was fluent in five languages and able to read two others. He wrote, over the course of his life, over sixteen thousand letters. He was acquainted with nearly every influential person in America, and a great many in Europe as well. He was a lawyer, agronomist, musician, scientist, philosopher, author, architect, inventor, and statesman. Though he never set foot outside of the American continent before adulthood, he acquired an education that rivaled the finest to be attained in Europe. He was clearly the foremost American son of the Enlightenment.
Jefferson was born at Shadwell in Albemarle county, Virginia on April 13, 1743. He was tutored by the Reverend James Maury, a learned man, in the finest classical tradition. He began the study of Latin, Greek, and French at the age of 9. He attended William and Mary College in Williamsburg at sixteen years old, then continued his education in the Law under George Wythe, the first professor of law in America (who later would sign Jefferson's Declaration in 1776). Thomas Jefferson attended the House of Burgesses as a student in 1765 when he witnessed Patrick Henry's defiant stand against the Stamp Act. He gained the Virginia bar and began practice in 1769, and was elected to the House of Burgesses in 1769. It was there that his involvement in revolutionary politics began. He was never a very vocal member, but his writing, his quiet work in committee, and his ability to distill large volumes of information to essence, made him an invaluable member in any deliberative body.
In 1775 when a Virginia convention selected delegates to the Continental Congress, Jefferson was selected as an alternate. It was expected that Payton Randolph, (then Speaker of the Virginia House and president of the Continental Congress too,) would be recalled by the Royal Governor. This did happen and Jefferson went in his place. Thomas Jefferson had a theory about self governance and the rights of people who established habitat in new lands. Before attending the Congress in Philadelphia he codified these thoughts in an article called A Summary View of the Rights of British America. This paper he sent on ahead of him. He fell ill on the road and was delayed for several days. By the time he arrived, his paper had been published as a pamphlet and sent throughout the colonies and on to England where Edmund Burke, sympathetic to the colonial condition, had it reprinted and circulated widely. In 1776 Jefferson, then a member of the committee to draft a declaration of independence, was chosen by the committee to write the draft. This he did, with some minor corrections from James Madison and an embellishment from Franklin, the document was offered to the Congress on the first day of July. The congress modified it somewhat, abbreviating certain wording and removing points that were outside of general agreement. The Declaration was adopted on the Fourth of July.
Jefferson returned to his home not long afterward. His wife and two of his children were very ill, he was tired of being remote from his home, and he was anxious about the development of a new government for his native state.
In June of 1779 he succeeded Patrick Henry as Governor of Virginia. The nation was still at war, and the southern colonies were under heavy attack. Jefferson's Governorship was clouded with hesitation. He himself concluded that the state would be better served by a military man. He declined re-election after his first term and was succeeded by General Nelson of Yorktown.
In 1781 he retired to Monticello, the estate he inherited, to write, work on improved agriculture, and attend his wife. It was during this time that he wrote Notes on the State of Virginia, a work that he never completed. Martha Jefferson died in September of 1782. This event threw Jefferson into a depression that, according to his eldest daughter he might never have recovered from. Except that Washington called on him in November of 1782 to again serve his country as Minister Plenipotentiary to negotiate peace with Gr. Britain. He accepted the post, however it was aborted when the peace was secured before he could sail from Philadelphia.
In 1784 Jefferson went to France as an associate Diplomat with Franklin and Adams. It was in that year that wrote an article establishing the standard weights, measures, and currency units for the United States. He succeeded Franklin as Minister to France the following year. When he returned home in 1789, he joined the Continental Congress for a while, and was then appointed Secretary of State under George Washington. This placed him in a very difficult position. The character of the executive was being established during the first few terms. Jefferson and many others were critical of the form it was taking under the first Federalist administration. Jefferson was sharply at odds with fellow cabinet members John Adams and Alexander Hamilton, both of whom he found to be too authoritarian and too quick to assume overwhelming power for the part of the executive. He resigned from the cabinet in 1793 and formed the Democrat-republican party. Heated competition continued. Jefferson ran for president in 1796, lost to John Adams, and, most uncomfortably, this made him vice president under a man whom he could no longer abide. After a single meeting, on the street, the two never communicated directly during the whole administration.
Jefferson again ran for the presidency in 1801 and this time he won. He served for two terms and he did ultimately play a deciding role in forming the character of the American Presidency. The 12th amendment to the Constitution changed the manner in which the vice president was selected, so as to prevent arch enemies from occupying the first and second positions of the executive. Jefferson also found the State of the Union address to be too magisterial when delivered in person. He performed one and afterwards delivered them, as required by the constitution, only in writing. He also undertook the Louisiana Purchase, extending the boundaries of the country and establishing the doctrine of manifest destiny.
Thomas Jefferson retired from office in 1808. He continued the private portion of his life's work, and sometime later re-engaged his dearest and longest friend James Madison, in the work of establishing the University of Virginia. In 1815 one of his projects, a Library of Congress, finally bore fruit, when he sold his own personal library to the congress as a basis for the collection. Shortly before his death in 1826, Jefferson told Madison that he wished to be remembered for two things only; as the Author of the Declaration of Independence, and as the founder of the University of Virginia. Jefferson died on the 4th of July, as the nation celebrated the fiftieth anniversary of his splendid Declaration.
John Hancock
1737-1793
Representing Massachusetts at the Continental Congress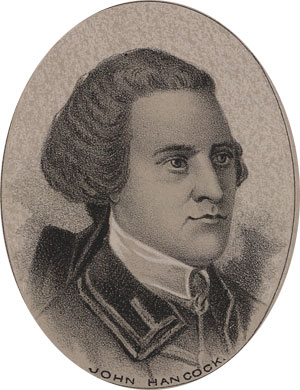 by Ole Erekson, Engraver, c1876, Library of Congress
| | |
| --- | --- |
| Born: | January 12, 1737 |
| Birthplace: | Braintree (Quincy), Mass. |
| Education: | Graduated Harvard College (Merchant.) |
| Work: | Elected to the Boston Assembly, 1766; Delegate to, and President of, the Provincial Congress of Massachusetts, circa 1773; Elected to Continental Congress, 1774; Elected President of the Continental Congress, 1775; Member of Massachusetts state Constitutional Convention, elected Governor of Massachusetts, through 1793. |
| Died: | October 8, 1793 |
The signature of John Hancock on the Declaration of Independence is the most flamboyant and easily recognizable of all. It is perhaps no surprise that the story of his part in the revolution is equally engaging. Few figures were more well known or more popular than John Hancock.
He played an instrumental role, sometimes by accident, and other times by design, in coaxing the American Revolution into being.
Born in Braintree, Massachusetts in 1737, he was orphaned as a child, and adopted by a wealthy merchant uncle who was childless. Hancock attended Harvard College for a business education and graduated at the age of 17. He apprenticed to his uncle as a clerk and proved so honest and capable that, in 1760, he was sent on a business mission to England.
There he witnessed the coronation of George III and engaged some of the leading businessmen of London. In 1763, his uncle died and John Hancock inherited what was said to be the greatest body of wealth in New England.
This placed him in a society of men who consisted mainly of loyalists, suspected by the working population because of their great affluence and social power.
Hancock, however, soon became very involved in revolutionary politics and his sentiments were, early on and clearly, for independence from Great Britain.
He was in company with the Adamses and other prominent leaders in the republican movement in New England. He was elected to the Boston Assembly in 1766, and was a member of the Stamp Act Congress.
In 1768 his sloop Liberty was impounded by customs officials at Boston Harbor, on a charge of running contraband goods. A large group of private citizens stormed the customs post, burned the government boat, and beat the officers, causing them to seek refuge on a ship off shore. Soon afterward, Hancock abetted the Boston Tea Party.
The following year he delivered a public address to a large crowd in Boston, commemorating the Boston Massacre. In 1774, he was elected to the Provincial Congress of Massachusetts and simultaneously to the Continental Congress. When Peyton Randolph resigned in 1776, Hancock assumed the position of President. He retired in 1777 due to problems with gout, but continued public service in his native state by participating in the formation of its constitution. He was then elected to the Governorship of the state where he served for five years, declined reelection, and was again elected in 1787. He served in that office until his death in 1793. The dignity and character of John Hancock, celebrated by friend and enemy alike, did not suffer for his love of public attention. He was a populist in every sense, who held great confidence in the ability of the common man. He also displayed a pronounced contempt for unreasoned authority. A decree had been delivered from England in early 1776 offering a large reward for the capture of several leading figures. Hancock was one of them.
The story, entirely unfounded, is that on signing the Declaration, Hancock commented, "The British ministry can read that name without spectacles; let them double their reward." An alternate story, also unfounded has him saying, "There, I guess King George will be able to read that!" He was the first to sign and he did so in an entirely blank space.
Samuel Adams
1722-1803
Representing Massachusetts at the Continental Congress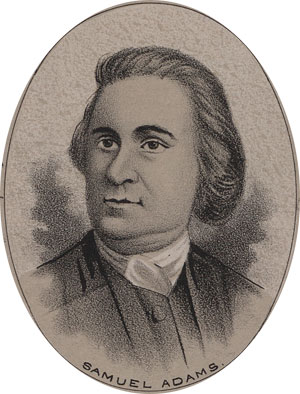 by Ole Erekson, Engraver, c1876, Library of Congress
| | |
| --- | --- |
| Born: | September 27, 1722 |
| Birthplace: | Boston, Mass. |
| Education: | Master of Arts, Harvard. (Politician) |
| Work: | Tax-collector; Elected to Massachusetts Assembly, 1765; Delegate to the First Continental Congress, 1774; Signed Declaration of Independence, 1776; Member of Massachusetts State constitutional convention, 1781; Appointed Lieutenant Governor of Mass., 1789; Elected Governor of Massachusetts, 1794-'97. |
| Died: | October 2, 1803 |
Samuel and John Adams' names are almost synonymous in all accounts of the Revolution that grew, largely, out of Boston. Though they were cousins and not brothers, they were often referred to as the Adams' brothers, or simply as the Adams'. Samuel Adams was born in Boston, son of a merchant and brewer. He was an excellent politician, an unsuccessful brewer, and a poor businessman. His early public office as a tax collector might have made him suspect as an agent of British authority, however he made good use of his understanding of the tax codes and wide acquaintance with the merchants of Boston. Samuel was a very visible popular leader who, along with John, spend a great deal of time in the public eye agitating for resistance. In 1765 he was elected to the Massachusetts Assembly where he served as clerk for many years. It was there that he was the first to propose a continental congress. He was a leading advocate of republicanism and a good friend of Tom Paine. In 1774, he was chosen to be a member of the provincial council during the crisis in Boston. He was then appointed as a representative to the Continental Congress, where he was most noted for his oratory skills, and as a passionate advocate of independence from Britain. In 1776, as a delegate to the Continental Congress, he signed the Declaration of Independence. Adams retired from the Congress in 1781 and returned to Massachusetts to become a leading member of that states convention to form a constitution. In 1789 he was appointed lieutenant governor of the state. In 1794 he was elected Governor, and was re-elected annually until 1797 when he retired for health reasons. He died in the morning of October 2, 1803, in his home town of Boston.
Benjamin Franklin
1706-1790
Representing Pennsylvania at the Continental Congress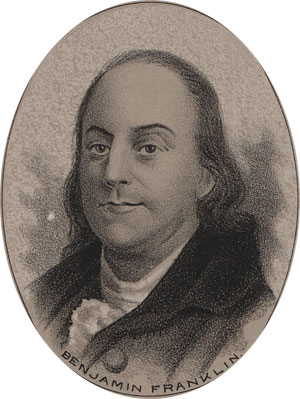 by Ole Erekson, Engraver, c1876, Library of Congress
| | |
| --- | --- |
| Born: | January 17, 1706 |
| Birthplace: | Boston, Ma. |
| Education: | Self-taught, apprenticed as a printer. Honorary Doctor of Laws, Universities of Edinburgh and Oxford. |
| Work: | Printer, Publisher, Scientist. Clerk of the Pennsylvania Assembly, 1736; Founded the Library Company of Philadelphia, 1731; Postmaster of Philadelphia, 1737-1753; Member of Pennsylvania Assembly, 1751-1764; Deputy Postmaster general of the British colonies in America, 1753; Founded Academy of Sciences of Philadelphia, 1753; Agent to Europe for Pennsylvania, 1757-1762, for Pennsylvania, Georgia, New Jersey, Massachusetts, 1764-1775; Elected to Continental Congress, 1775; Testified before Parliament concerning the Stamp Act, 1776; Postmaster General of the united colonies, 1775; Commissioner to the French Court, 1776; Minister plenipotentiary to the French Court, 1779; Negotiator in and Member of the Treaties with Gr.-Britain, 1781-1783; Member of the Supreme Executive Council of Pennsylvania, President of Pennsylvania Society for the Abolition of Slavery, 1785; Senior member of the Constitutional Convention, 1787. |
| Died: | April 17, 1790 |
Benjamin Franklin, born in Boston, Massachusetts, on January 17, 1706, may by his life alone be the most profound statement of what an American strives to be.
With no formal education beyond the age of 10 years, Franklin was celebrated throughout Europe, welcomed in any Royal Court, sought out by every prestigious society. Indeed, when the reputations of George Washington and Thomas Jefferson had yet to be sorted out, Franklin was worshipped wherever his name was known.
He attended grammar school at age eight, but was put to work at ten. He apprenticed as a printer to his brother James, who printed the New England Courant, at age twelve, and published his first article there, anonymously, in 1721. Young Benjamin was an avid reader, inquisitive and skeptical. Through his satirical articles, he poked fun at the people of Boston and soon wore out his welcome, both with his brother and with the city. He ran away to New York and then on to Philadelphia at the age of 16, looking for work as a printer. He managed a commission to Europe for the purpose of buying supplies to establish a new printing house in Philadelphia, but found himself abandoned when he stepped off ship. Through hard work and frugality he bought his fare back to Philadelphia in 1732 and set up shop as a printer. He was appointed clerk of the Pennsylvania Assembly in 1736, and as Postmaster the following year. In 1741 he began publishing Poor Richard's Almanac, a very popular and influential magazine. He was elected to the Pennsylvania Assembly in 1751 and served as an agent for Pennsylvania (and ultimately for three other colonies) to England, France, and several other European powers. He was elected to the Continental Congress in 1775, where he played a crucial role in the rebellion against Gr. Britain, including service to Jefferson in editing the Declaration of Independence. Franklin, who was by this time independently wealthy and retired from publishing, continued to serve an important role in government both local and national. He was the United States first Postmaster General, Minister to the French Court, Treaty agent and signer to the peace with Gr. Britain, Celebrated Member of the Constitutional convention (See Work, above). Benjamin Franklin: Businessman, Writer, Publisher, Scientist, Diplomat, Legislator, and Social activist, was one of the earliest and strongest advocates for the abolition of Slavery, and for the protection of the rights of American aboriginal peoples. He died on the 17th of April in 1790. On that day he was still one of the most celebrated characters in America. So should he always be.
Edward Rutledge
1749-1800
Delegate to the Continental Congress from South Carolina, 1774-76, 1779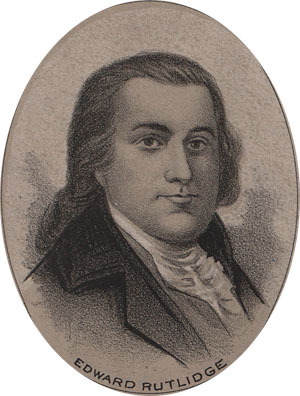 by Ole Erekson, Engraver, c1876, Library of Congress
| | |
| --- | --- |
| Born: | November 23, 1749 |
| Birthplace: | Charleston, S.C. |
| Education: | Graduate of Oxford, Studied at Middle Temple (London), Member of the English Bar (Lawyer) |
| Work: | State Legislator, Representative to the Continental Congress, 1774-76, 1779; Captain, Charleston Battalion of Artillery, 1776-1779; State legislator, 1782-1796; College of Electors, 1788, 1792, 1796; Elected Governor for South Carolina, 1798. |
| Died: | January 23, 1800 |
Born to an aristocratic Family in South Carolina, Edward Rutledge was perhaps destined to a life of Public service. He was educated in law at Oxford and studied for and was admitted to the English Bar. He and his brother John were both engaged in the law, and both attended the congress. They supported each other unabashedly, both on the floor and in committee. Edward attended Congress at the remarkable age of 27, and was no doubt pretty excited to find himself in the company of the most eminent men of the colonies.
He took leave of Congress in November of 1776 to join the defense of his colony. He was a member of the Charleston Battalion of Artillery, engaged in several important battles, and attained the rank of Captain. The colonial legislature sent him back to Congress in 1779 to fill a vacancy. He took his leave again in 1780 when the British conducted a third invasion of South Carolina. He resumed his post as Captain in the defense of Charleston, was captured and held prisoner until July of 1781.
In 1782 he returned to the legislature of his native state, where he served until 1796. He was a very active member, intent on the prosecution of British Loyalists. At times he served on as many nineteen committees. He also served as an elector, in 1788, 1792, and in 1796 when, despite his avowed allegiance to the Federalist party, he voted for Thomas Jefferson. He was then elected to the state Senate, twice, and in 1789 was elected Governor. This would be his last office. His health declining, he was barely able to complete his term as Governor. He died in January of 1800 at the age of 50.
Benjamin Harrison
1726-1791
Representing Virginia at the Continental Congress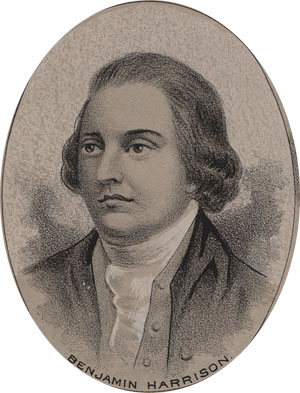 by Ole Erekson, Engraver, c1876, Library of Congress
| | |
| --- | --- |
| Born: | April 5, 1726 |
| Birthplace: | Berkeley, Va. |
| Education: | Attended William and Mary College (Farmer, Politician) |
| Work: | Elected to Virginia House of Burgesses, 1764; Member of the Continental Congress, 1774-77; Reelected to House of Burgesses, 1777, Selected as Speaker, 1778; Elected Governor of Virginia, 1782-84, 1791. |
| Died: | April 24, 1791 |
Benjamin Harrison was born in Berkeley Virginia in 1726. He attended William and Mary College in Williamsburg, but was unable to complete his studies due to the sudden death of his father and two sisters in a lightening strike. He was elected to the House of Burgesses at the age of 38. In 1764, when the House defied the Royal Governor and passed the Stamp Act Resolutions, the Governor tried to bribe Harrison with an appointment to the executive council. He refused the appointment and instead declared a devotion to republican principles. Elected to the Continental Congress in 1774, he was one of a party of representatives who, the following year, attended General Washington in Cambridge to plan the future of the American Army.
In 1777 he returned to Virginia to a seat in the House of Burgesses and also to serve as a lieutenant in his county militia. He was chosen Speaker of the House in 1778, and elected Governor of the State of Virginia in 1782. He retired from the Governor's office after five years service. Harrison suffered with gout during his later years. He died in 1791 at the age of 65.
His son, William Henry Harrison, was elected ninth President of the United States.
Richard Henry Lee
1732-1794
Virginia House of Burgesses, Representing Virginia at the Continental Congress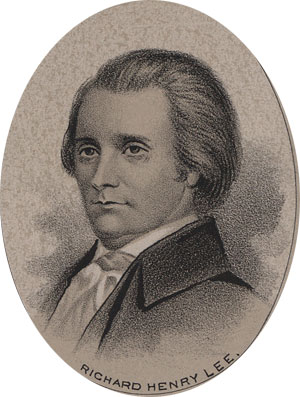 by Ole Erekson, Engraver, c1876, Library of Congress
| | |
| --- | --- |
| Born: | January 20, 1732 |
| Birthplace: | Westmoreland county, Va. |
| Education: | Private school at Wakefield, Yorkshire, England. (Farmer) |
| Work: | Justice of the peace, 1757; Virginia House of Burgesses, 1757; Continental Congress, 1774; First US Senator for Virginia, 1789. |
| Died: | June 19, 1794 |
Richard Henry Lee (brother of F.L. Lee) was born to an aristocratic family at Stratford, in Westmoreland county, Virginia. He attended a private school in England, returning to Virginia in 1751. That being the era of the French and Indian War, Lee formed a militia troop of young men in his neighborhood, was elected the leader, and marched his troop to a council in Alexandria where General Braddock was preparing a campaign on the Ohio river. The young men were rebuffed by the General and returned home. In 1757 Lee was appointed Justice of the Peace, and was shortly thereafter elected to the Virginia House of Burgesses. He was amongst those radical members of the Burgesses who met at the Raleigh tavern when the house was dissolved by the Royal Governor. In 1774 he was elected to attend the first Continental Congress. He enjoyed many important committee appointments. Noted for his oratory skills, it was he who offered the Resolutions for Independence to the committee of the whole in 1776. He served in Congress through the course of the War, while also serving in the House of Burgesses. In 1783 he was selected as president of Congress.
Lee opposed the federal constitution, as he favored strong state rights. He was however elected the first State Senator from Virginia under the new federal government. He retired from that office to his home in Chantilly due to illness, and soon after died at the age of 62.
Francis Lightfoot Lee
1734-1797
Virginia House of Burgesses, Representing Virginia at the Continental Congress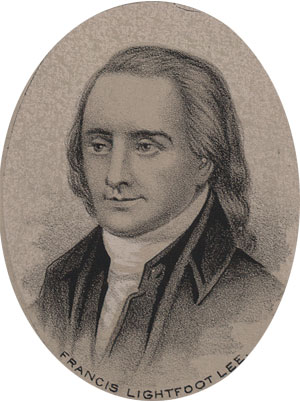 by Ole Erekson, Engraver, c1876, Library of Congress
| | |
| --- | --- |
| Born: | October 14, 1734 |
| Birthplace: | Westmoreland County, Virginia. |
| Education: | Private, (Farmer) |
| Work: | Member of the Virginia House of Burgesses 1758-75; Elected to Continental Congress, 1775-79, Member of Virginia Senate. |
| Died: | January 11, 1797 |
Francis Lightfoot Lee (brother of R.H. Lee) was born in Westmoreland, Virginia, on the fourteenth of October, 1734. He was educated at home by Doctor Craig, in the manner of an enlightened country gentleman. In 1765 he was elected to the Virginia House of Burgesses, where he served until 1775. He was a noted radical, on the side of Patrick Henry in opposing the Stamp Act. He Joined the group who called for a general congress and a Virginia Convention in 1774. He attended that convention and that year was sent to the first Continental Congress. He represented his state there until 1779, working on numerous committees. He retired from the Congress in 1779 and returned to his home. He served for a while in the Virginia Senate and then retired to private life. He died in 1797.
Proceedings of the First Continental Congress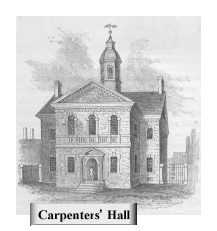 The first Continental Congress met in Carpenter's Hall in Philadelphia, from September 5, to October 26, 1774. Carpenter's Hall was also the seat of the Pennsylvania Congress. All of the colonies except Georgia sent delegates. These were elected by the people, by the colonial legislatures, or by the committees of correspondence of the respective colonies. The colonies presented there were united in a determination to show a combined authority to Great Britain, but their aims were not uniform at all. Pennsylvania and New York sent delegates with firm instructions to seek a resolution with England. The other colonies voices were defensive of colonial rights, but pretty evenly divided between those who sought legislative parity, and the more radical members who were prepared for separation. Virginia's delegation was made up of a most even mix of these and not incidentally, presented the most eminent group of men in America. Colo. George Washington, Richard Henry Lee, Patrick Henry, Edmund Pendleton, Colo. Benjamin Harrison, Richard Bland, and at the head of them Peyton Randolph — who would immediately be elected president of the convention.
The objectives of the body were not entirely clear but, with such leadership as was found there, a core set of tasks was carried out. It was agreeable to all that the King and Parliament must be made to understand the grievances of the colonies and that the body must do everything possible to communicate the same to the population of America, and to the rest of the world.
The first few weeks were consumed in discussion and debate. The colonies had always, up to this time, acted as independent entities. There was much distrust to overcome. The first matter to be considered by all was A Plan of Union of Great Britain and the Colonies, offered by Joseph Galloway of Pennsylvania. The plan was considered very attractive to most of the members, as it proposed a popularly elected Grand Council which would represent the interests of the colonies as a whole, and would be a continental equivalent to the English Parliament. Poised against this would be a President General, appointed by the crown, to represent the authority of the king in America. Conflict in Boston overcame the effort at conciliation. The arrival of the Suffolk County (Boston) resolves just prior to the vote on the Plan of Union, caused it to be discarded by a narrow margin.
On October 14, the Declaration and Resolves established the course of the congress, as a statement of principles common to all of the colonies. Congress voted to meet again the following year if these grievances were not attended to by England.
Several days later, on the 20th, came The Association, which was patterned after the Virginia Association and others that followed. This was a pact for nonimportation of English goods, to establish mechanisms throughout the colonies to enforce and regulate the resistance to Great Britain, and to keep the channels of communication open. It was to become effective on December 1, 1774 unless parliament should rescind the Intolerable Acts.
By the end of 1774
Delegates
| | |
| --- | --- |
| New Hampshire: | John Sullivan, Nathaniel Folsam |
| Massachusetts Bay: | John Adams, Samuel Adams, Thomas Cushing, Robert Treat Paine |
| Rhode Island: | Stephen Hopkins, Samuel Ward |
| Connecticut: | Eliphalet Dyer, Roger Sherman, Silas Deane |
| New York: | Isaac Low, John Alsop, John Jay, James Duane, William Floyd, Henry Wisener, S. Bocrum |
| New Jersey: | James Kinsey, William Livingston, Stephen Crane, Richard Smith |
| Pennsylvania: | Joseph Gallaway, John Dickinson, Charles Humphreys, Thomas Miffin, Edward Biddle, John Morton, George Ross |
| Delaware: | Caesar Rodney, Thomas Keane, George Readv |
| Maryland: | Matthew Tilghman, Thomas Johnson, William Paca, Samuel Chase |
| Virginia: | Peyton Randolph, Richard Henry Lee, George Washington, Patrick Henry, Richard Bland, Benjamin Harrison, Edmund Pendleton |
| North Carolina: | William Hooper, Joseph Hewes, R. Caswell |
| South Carolina: | Henry Middleton, Thomas Lynch, Christopher Gadsden, John Rutledge, Edward Rutledge |
The French & Indian War
1754-1763
(The Seven Years War)
The Seven Years War (1689-1763) was a massive conflict involving Austria, England, France, Great Britain, Prussia, and Sweden. The conflict was played out in Europe, India, and North America. In Europe, Sweden , Austria, and France were allied to crush the rising power of Frederick the Great, King of Prussia. The English and the French battled for colonial domination in North America, the Caribbean, and in India. The English did ultimately come to dominate the colonial outposts, but at a cost so staggering that the resulting debt nearly destroyed the English government. It was that debt that caused the escalation of tensions leading to the Revolutionary War. Parliament was desperate to obtain two objectives; first, to tax the colonies to recover monies expended on the battle over North America, and second to restore the profitability of the East India Company in an effort to recover monies spent on the battle over India.
The French and Indian War, as it was referred to in the colonies, was the beginning of open hostilities between the colonies and Gr. Britain. England and France had been building toward a conflict in America since 1689. These efforts resulted in the remarkable growth of the colonies from a population of 250,000 in 1700, to 1.25 million in 1750. Britain required raw materials including copper, hemp, tar, and turpentine. They also required a great deal of money, and so they provided that all of these American products be shipped exclusively to England (the Navigation Acts). In an effort to raise revenue and simultaneously interfere with the French in the Caribbean, a 6 pence tax on each gallon of molasses was imposed in 1733 (the Molasses Act, see note: The Sugar Act). Enforcement of these regulations became difficult, so the English government established extensive customs services, and vice-admiralty courts empowered to identify, try, and convict suspected smugglers. These devices were exclusive of, and superior to, the colonial mechanisms of justice.
The colonies were wholly interested in overcoming the French in North America and appealed to the King for permission to raise armies and monies to defend themselves.* Despite sincere petitions from the royal governors, George II was suspicious of the intentions of the colonial governments and declined their offer. English officers in America were also widely contemptuous of colonials who volunteered for service. A few of the men who signed the Declaration had been members of volunteer militia who, as young men, had been dressed down and sent home when they applied for duty. Such an experience was not uncommon. It led communities throughout the colonies to question British authorities who would demand horses, feed, wagons, and quarters — but deny colonials the right to fight in defense of the Empire, a right which they considered central to their self-image as Englishmen.